Huh?
I can't believe one week just pasted in this way...
For some reason Mom forbids me to surf the Internet.(oh,this is the first time for her to do so.So I forgive her.
)
Thus,I've got more time to do what I am supposed to do.(since I've wasted too much time on the attractive Internet.
)
But I don't really know what I've done though!
We had BBQ last Saturday.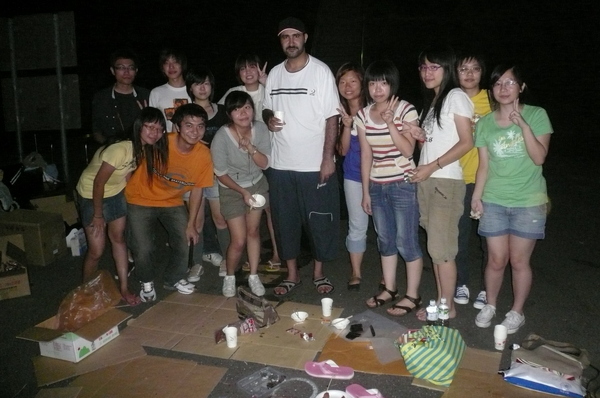 The man in the middle of this pic is one of our Arabic teachers.His name is سليمان.(not sure if it's the right way to spell it.)It's translated as 蘇里曼.He's interesting when giving lecture.Besides,his Chinese is better than Ahmed!lol...
After that,my busy week just began.

Monday?I went to school early coz I wanna add one more course.(WTH!8:00am!!)It's "Introduction to English short stories" or something like that.Then?No class during 10:00am~2:00pm!!I had Chinese class in the afternoon.It's "Introduction to Chinese short stories"(Darn~!They are not short at all!)I have to buy a book which has been printed by my teacher.NT$143 for each book.
Anyway,let's call my Monday as "Story day"!
Tuesday?God I hate Tuesday!I have to stay at school from 8:00am~6:00pm! I've got history & Arabic in the morning!As for the afternoon,They are all about "Southern East Asia". One is for their social and economic development(I couldn't help but keep dozing off during the lecture.sorry teacher,You are so boring!),the other is for their peoples and cultures.I prefer the latter one because the teacher is quite funny!(I was so energetic!)
Wednesday and Thusday?I can't arrive home until 9:00 pm.Since there'll be a singing contest for students of NCCU.EVERYONE is required to attend it.So?We have to prepare for it from now on.Fine!
Friday!!I have P.E class~Tennis~yeah~I don't know why my PE teacher kept focusing on me.
"Hey,the first girl from the left of the second court!!Your position is just NOT right!!Do you know I am calling you?",he shouted.
Then he had me to watch his position again in private.It's nice of him to be willing to correct me.hahaha~Although I know he might think I am such a doofus in heart!
The last class of my week is English.My teacher?Her name is Cheryl Sheridan.(but the Ch is pronunced as Sh)it's not a very interesting class,but she always asks us to speak english,so it's not bad.(Oh,I haven't got my textbook.and they are so expensive!)I just hope I can really learn something from her.

Sigh,I can't live without money.
I can't stay home even on Saturday for a pretty good reason.
To find the best way ever to make a fortune.
Action speaks louder than words.
Everybody knows it,but only few people realizes it.
Keep going on ,Susie!شريفة